As of a certain number of domains - especially if you manage several domains for different customers - it may be useful to organize these domains in separate groups.
The assignment of domains to separate groups can make your domain management easier. For example, the DNS configuration can be changed for a certain group of domains or a bulk update of WHOIS data can be performed.
Group assignment is a feature that can make it easier for you to manange domains.

It is not a multi-user function where your customers receive their own access data or access to certain areas in your account. At domaindiscount24 such a function is neither implemented nor planned for the future.

If you would like to be a reseller and manage 500 or more domains for diffrent customers, please contact the colleagues of our reseller protal RRPproxy.
Making group assignments
To make a group assingment, please log in to your dd24 account. First click on Domains My domains on the left and mark the respective domain in the overview.

Add group
Once you have made your selection, select Add Group (1) and click Let`s go! (2).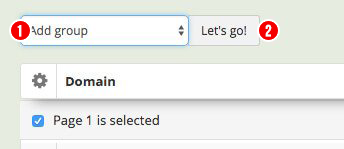 In the following window you can select whether you want to assign the domain to an already existing group or create a new group (1).
If you have decided to create a new group, please enter the name of the group (2).
Finally confirm your settings by clicking on the Execute button (3).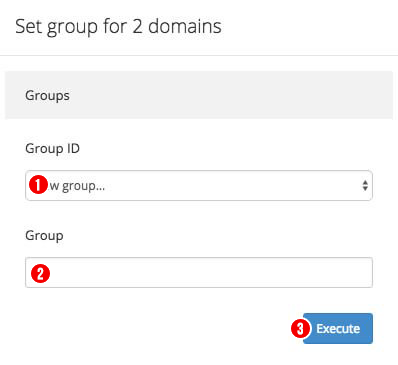 Customize display
To customize the display so that the group column will be shown in the domain overview, you need to adjust the view options.
Please click on the gearwheel symbol in your domain overview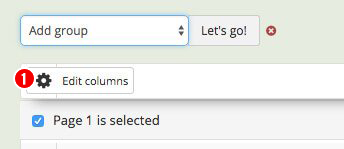 In the following dialog window, all available columns are displayed.
In our example, please select teh column "Group-ID" (1) and then click on "Save" (2).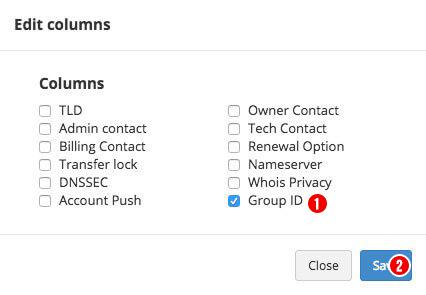 After saving, your domain overview will now be extended by the column Group-ID.

Please note
If you are planning a possible bulk update, be sure to observe the notes!