Please log into your account and select Domains - My domains in the menu and choose the Domain you want to configure.

Click on the section Whois/Nameserver (1) to see the Whois handles that belong to this domain.

You can select an existing Whois set (2) or import contact data of a certain domain.

You can create a new contact (3) or modify an already existing contact to build a new handle (4). Please note: A new contact is always created.

If you select Save contacts for later use (5) you can create a Whois set for future use.

When all contact handles are displayed as you want it, please scroll down and click Save changes (6).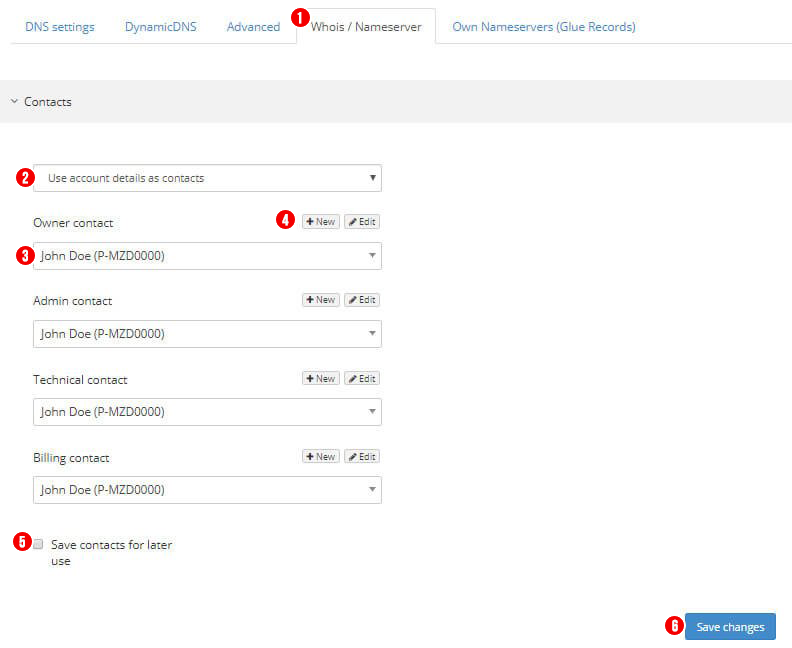 Useful information on whois entries:
Some TLDs have their own rules regarding the WHOIS contacts.
Not all TLDs require a owner, admin, technical and billing contact.
However, you should specify all four contacts in your account if possible.
Owner contact (OWNER-C)
The Owner-C (domain holder) is the owner of a domain.
The domain owner is the contracting party of the registry and thus holds the material rights to the domain. If the domain holder or a co-owner is not a natural person, the corresponding company name must be specified with the legal form.
Admin contact (ADMIN-C)
The Admin-C (Administrative Contact) is the administrative representative of a domain. He is registered with his address as administrator in the whois database of the most domain registries (in addition to the owner). He is not necessarily the owner of the domain, even if this is more the rule in the private sector.
The Admin-C is subject to the directives of the Owner-C and acts on his behalf. Usually, the Admin-C must be a natural person. Regarding .de domains, the Admin-C is - to some extent - also the legal contact of the domain. He can be held liable for the domain holder's violations of competition rules under certain circumstances. In addition to the administrative contact, there are usually also a technical contact (Tech-C) and a contact person for the name servers (Zone-C).
Technical Contact (TECH-C)
The Tech-C (Technical Contact) is the contact person in charge of the technical aspects of a domain (according to the original purpose of a domain as a unique suffix for the computer of an institution, for example the person who is responsible for this computer). When registering a domain, you must specify in the majority of cases at least Owner-C, Admin-C, Tech-C or Zone-C.
The Higher Regional Court of Hamburg decided that the Tech-C may be liable in the event that the owner and Admin-C of a domain are not reachable (please refer to: OLG Hamburg v. November 4, 1999, 3 U 274/98, JurPC Web-Dok. 39/2000).